tel:
0472-2642000

fax:
0472-2207538
0472-2805195
Service Network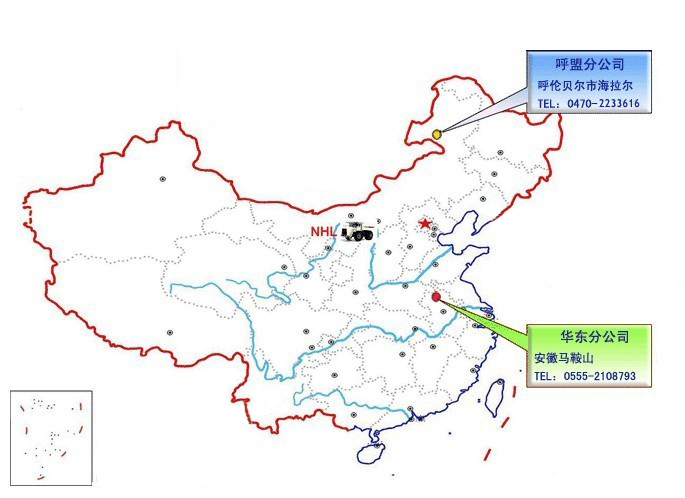 In order to reduce the operation cost and speed up the post market reaction speed, the branch company is an overseas organization set up in specific areas for some relatively concentrated user groups according to the distribution of users. At present, North China Stock Co., Ltd. has two branches in China, East China branch and Humeng branch. The functions of the branch are as follows:
1. On behalf of the company to establish friendly and harmonious partnership with users in the region under its jurisdiction.
2. Responsible for information feedback and training coordination of users in radiation area.
3. According to the specific situation of users in the radiation area, reasonably deploy after-sales service personnel to provide satisfactory service for users.
4. Use the spare parts inventory of the branch company to provide fast and thoughtful spare parts sales service for the users in the jurisdiction area.
5. Complete the spare parts sales task according to the market divided by the spare parts department and the corresponding sales quota.
6. Submit reasonable spare parts inventory plan for spare parts department according to the actual demand and market situation of users in the area under its jurisdiction.
7. Guarantee the safety of spare parts assets in the spare parts warehouse and the assets of branch companies.
8. Contract various forms of paid services for the company according to the actual needs of users in the area under its jurisdiction.
9. Timely and accurately feed back to the company the equipment purchase information, equipment update status, equipment operation status and product quality information of users in the area under its jurisdiction.
10. Properly handle the phone calls and letters of users, and do a good job in the reception of users' visitors.
 Established in October 2005, responsible for Yimin, baomei, Zhajian and surrounding areas of Manzhouli in northern Inner Mongolia. The spare parts inventory is mainly used for TR100, 3311E, 3307, tr50, 3305 and other models, with an inventory amount of about 6 million yuan.
Address: No.204, No.11 road street, new village of railway workers, Hailar District, Hulunbuir City, Inner Mongolia
Postcode:021000 phone:0470-2233616
Fax:0470-2233616
E-mail :qxh@chinanhl.com
Contacts:Qian Xinhong and Zhang Lixin
 Established in October 2002, responsible for Anhui, Zhejiang, Jiangsu, Hubei and Shandong. The spare parts inventory mainly includes the common spare parts of TR100, 3307, tr50, 3305, etc., and the inventory amount is about 10 million yuan.
Address: No.34, Yanghu garden, Ma'anshan, Anhui Province
Postcode:243000
phone:0555-2108793 13965606848
Fax:0555-2108322
E-mail :qiaojun@chinanhl.com
Contacts:Qiaojun